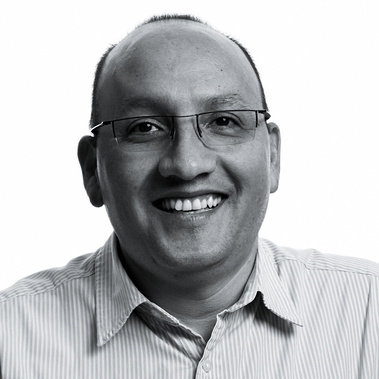 Nacido en 1963 en la Ciudad de México, Alfonso Heredia estudió la carrera de Ingeniero en Computación en la Facultad de Ingeniería de la Universidad Nacional Autónoma de México.
Ingeniero de vocación y Fotógrafo de corazón es como Alfonso Heredia se describe a sí mismo, dedicando a lo largo de su vida innumerables horas a captar aquellas imágenes y momentos que lo han cautivado.
Para Alfonso Heredia cada fotografía, más allá de su representación intrínseca, significa "retirar el velo de la insignificancia a través del detalle con el que se mira, para entonces albergar aquellas emociones y sentimientos que marcan la propia existencia".
En su trayectoria como fotógrafo, Alfonso Heredia montó su primera exposición Daquém e Dalém-Mar en el 2016, donde captura personas, paisajes y la vida cotidiana de varias latitudes desde su perspectiva muy particular, adicionando reflexiones personales que complementan la experiencia visual del espectador.
Ahora en el 2017, Alfonso Heredia presenta su nueva exposición Alter Ego, que representa un llamado a asumir la emancipación femenina como un derecho inalienable de igualdad y reconocimiento dentro una sociedad tan plural y diversa como lo es la nuestra.
Born in Mexico City 1963, Alfonso Heredia studied Computer Sciences Engineering at the Universidad Nacional Autónoma de México.
Engineer by vocation and Photographer by heart is how Alfonso Heredia refers to himself, dedicating endless hours of his life to capture those images and moments that have captivated him.
Under Alfonso Heredia´s perspective, each photography beyond its intrinsic representation means "removing the veil of insignificance through the detail on how things are appreciated, thus housing those emotions and feelings that imprint our own existence"
During his trajectory as Photographer, Alfonso Heredia set his first exhibition Daquém e Dalém-Mar in 2016, where he captures people, landscapes and daily life of various latitudes through his own perspective, adding personal reflections that complement the visual experience of the viewer.
In 2017, Alfonso Heredia presents his new exhibition Alter Ego, which demands us to assume women's emancipation as an inalienable right of equality and acknowledgment within such a plural and diverse society as ours.